Today we are looking at online resources, what are you using and why? With schools now working on a phased return for all pupils and fears of not having enough resources and space in school for children to work safely it's a sure fire thing that there will be a number of children at home or in a rota for school.
With institutions such as Cambridge University saying that they want to go online with their courses for the next Academic year this shows that they don't think there will be a quick return and measures put in place will have to look towards the years scale rather than months.
Online distance learning is all well and good for adults though some elements will translate nicely and online only training and degree programs are not uncommon. Looking towards a primary level though pupils need that more socially engaged teaching not only with their teachers but with their fellow pupils.
Below we are looking at each level of resources and how they current fit in the pyramid of resources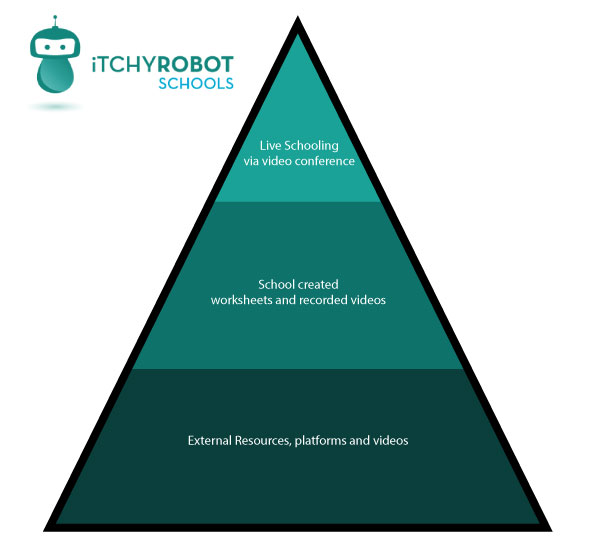 The Foundation
The bottom of the pyramid is made up of a solid base of external resources and portals that need limited interaction that pupils can complete at their own pace. Alongside these would be videos that are from external parties such as PE with Joe Wicks or other subjects.
The Middle Layer
The next step up from here as we see it are video resources from the school these are the worksheets/videos created by the school these target the exact needs for each class. This gives a much more direct link with the school while the pupils are at a distance.
The Top Level
At the top of pyramid as we have it is online live schooling via teams or zoom. We have encountered many schools using this technology to great effect they are seeing the benefits of keeping in touch with pupils and having that social interaction. From the schools we have been working with the best results have been found by breaking the classes down into smaller groups or even some schools doing one on one sessions where needed.
Conclusion
I think that the school approach should include all levels of the above approach where suitable and is the best way of delivering resources and information at this time. If you have any opinions on this we would love to hear.
At iTCHYROBOT we have encountered a range of issues for schools with every level of the pyramid and have solutions to counter many of them so if you do have any questions, anything we may have missed or would just like to chat to us about any ideas we may have that you can easily implement please get in touch.
---
Our Solutions