Why iTCHYROBOT uses WordPress as their CMS of choice
Over the years the iTCHYROBOT Team have been involved in building, maintain and using a variety of Content Management Systems for website development. We have developed and managed everything from custom builds through SharePoint, DotNetNuke, Joomla, Drupal, Contentful and Shopify. There are probably a few we have missed but those represent the main ones we have managed in the past and currently. However, we always returned to WordPress for its ease of use and the ability to extend the platform through code to support bespoke features for our clients. WordPress is widely recognised for its user-friendly interface and versatility, making it an excellent choice for our schools looking to develop a website. Here's a list of benefits highlighting why WordPress is so user-friendly for schools: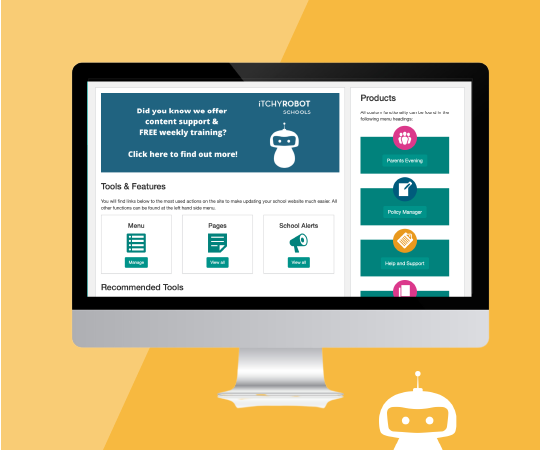 The Benefits of WordPress
Intuitive User Interface:

WordPress boasts an intuitive and user-friendly interface, making it easy for school administrators, teachers, and staff with varying technical backgrounds to navigate and manage content effortlessly.

No Coding Required:

Schools can create and update their website content without any coding knowledge. WordPress allows users to add and edit content through a simple visual editor, eliminating the need for technical expertise.

Flexible Content Management:

WordPress provides a flexible content management system (CMS) that allows schools to easily organise and update information. Adding pages, blog posts, images, and multimedia content can be done with just a few clicks.

User Roles and Permissions:

WordPress provides a robust user management system, allowing schools to assign specific roles and permissions to different users. This ensures that only authorised individuals have access to certain website functionality.

Search Engine Friendly:

WordPress is inherently SEO-friendly, with features that help improve the website's search engine visibility. This is crucial for schools aiming to reach a wider audience and enhance their online presence.
Community Support:

WordPress has a large and active community of users and developers. Schools can tap into this wealth of knowledge through forums, tutorials, and online resources, making it easier to troubleshoot issues and learn new features. But don't forget as a school VIP you get direct training and access to the iTCHYROBOT Technical Team who built your platform!

Regular Updates and Security:

WordPress is regularly updated to incorporate new features, improve security, and fix any bugs. This ensures that schools can rely on a stable and secure platform for their website development needs.

Easily Integrates with Other Tools:

WordPress can seamlessly integrate with a variety of third-party tools and services, such as social media platforms, learning management systems (LMS), and communication tools, enhancing the overall functionality of the school's website.

Built-in Blogging Capabilities:

WordPress started as a blogging platform, and it still excels in this area. Schools can use the built-in blogging capabilities to share news, updates, and educational content with their community.

Ease of Updates:

Keeping the website content fresh and up-to-date is easy with WordPress. Schools can quickly update information, upload new documents, and showcase events without the need for extensive technical knowledge.
In summary, WordPress's user-friendly nature, coupled with its flexibility and extensive features, makes it an ideal choice for schools seeking an efficient and accessible platform for website development. In summary that is why we choose the WordPress platform as the foundation for our Schools System!
With such a great starting point in WordPress we rapidly developed solutions for the platform to make managing your school website even easier.
Policy Manager

Schools manage a lot of policies! Usually, they are on a dedicated policy page but often dotted around pages on the website. It became very apparant to us early on that this was not sustainable as some documents would get update and others would still be the old version. To get around this we developed our document tagging and embed solution. Now, you manage all your policy documents in one place. Tag them as you see fit with one document capable of being included in multiple categories. Using our intuitive page embed tool you add the list of documents to the page. When it comes to updating your policy simply change it in the document manager and voila! All locations that include the document are now up to date!

Image Safeguarding Management

Have you had occassion to remove a pupils picture from your website. Where are all the pictures of this pupil? How many pages will you need to trawl on your website to find all these pictures? On an iTCHYROBOT website the answer is 1. Yes, you read that right! When you upload your photos to the media library tag the pupils uploaded into the school management section. Now, visit the school management section, choose the pupil and review the images. From there you can see each image the pupil is in and you can decide on the appropriate action.

Forms and Surveys – View Information
Parents Evening
School Alerts – View Information
Video Manager – View Information
If you would like to find out more about our platform, or book a demo, you can access our online calendar and schedule a date to suit you.