Spending time on your School website is an investment. Done right and becomes a digital window into your school showcasing everything that is amazing and unique about it.
Every school website should tell your story through unique design, stunning photography and videography through to complying with Ofsted content publishing guidelines.
At iTCHYROBOT we are with you every step ensuring you get the website your schools deserves, the support you need to maintain it and the training your staff require to ensure they have the confidence to update it.
School Success Stories
Billingham South Primary School are officially the "first British 'outstandingly happy' school", but you wouldn't have known it from their old website. Featuring drab, dark colours, a bland header and photos that didn't represent these happy visions and values, they needed a new site that truly reflected this new brand. The site also had to be functional and easy-to-use for parents, students and staff.
How did we help?
Working alongside Billingham South was an absolute joy. We quickly realised how they'd earned their title as Britain's first outstandingly happy school! Their excitement was infectious and we knew this would be a special project.
On top of this super-fun, exciting design, we included:
• Carefully considered fonts to get a playful and creative feel from the site
• Graphics that have since been customised for use in other areas, both digitally and physically in the school
• Our suite of school-focused functionality to simplify tasks and organisation
• Using existing digital skills from within the school to create superb graphics and video
What was the result?
The school were absolutely over the moon with the website, going on to create even more videos for other areas of the site to carry the branding on themselves! We've worked closely with staff there since to deliver additional training and features for the site.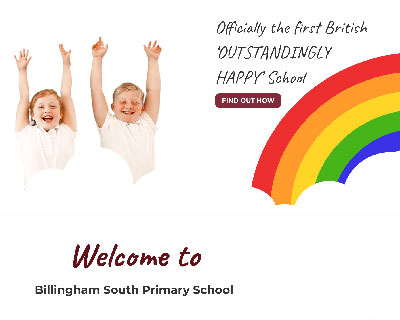 Find Out More
If you would like to speak to a member of the design and development team about your project get in touch via the contact form.
Blog Articles
There are lots of factors to consider when putting together a new school website. Read our blog to find out more about the process.
Useful Resources
SEO is a great way to make your website stand out on search engines. We've created a downloadable checklist to help you out.