At school, time is a precious resource, and the last thing you want to worry about is how to gather data from parents, pupils, or governors using cumbersome online forms. But fret not! iTCHYROBOT Forms is here to revolutionise your data collection process, allowing you to achieve more in less time. Before you know it, you'll be handling and analysing data like a seasoned pro.
The power is in your hands! Choose to kickstart your data journey with our ready-to-use school forms, covering a wide range of needs – from photo permissions, PTA donations, to insightful parent surveys. We offer a plethora of pre-made templates that serve as an ideal starting point, which you can effortlessly customise to suit your unique requirements.
Alternatively, you have the freedom to create simple contact forms or intricate multi-page forms, complete with file uploads, conditional logic, and real-time calculations – all from scratch. What's more, once you've gathered your valuable data, our platform lets you craft stunning displays with customisable views and graphs.
Here's the best part – if you're currently shelling out money for systems like Survey Monkey or others, it's time to put an end to it! With iTCHYROBOT Forms, our solution is fully integrated into our comprehensive school platform. This means you can create an unlimited number of forms without any restrictions, saving your school money and providing you with a seamless experience.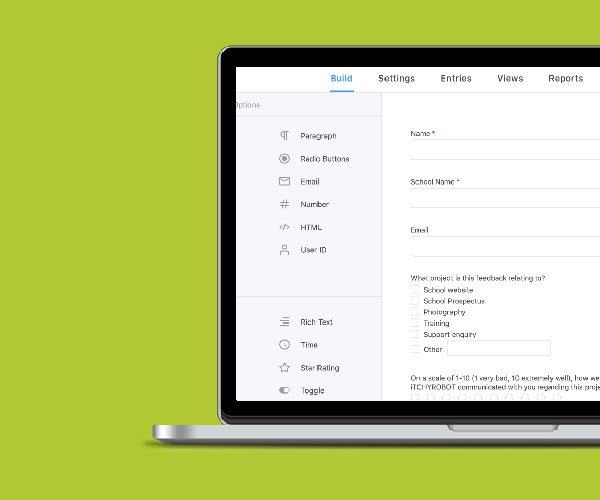 Don't let data collection be a daunting task any longer. Embrace iTCHYROBOT Forms, and transform the way you gather and manage data in your school today!
School Specific Forms
Photography Permission Forms
Admission Forms
Facebook Consent
Collection Arrangements
After Schools Club
30hrs Nursery Provision
Pupil Surveys
Staff Surveys
Donation Pages
Polls & Surveys
Quiz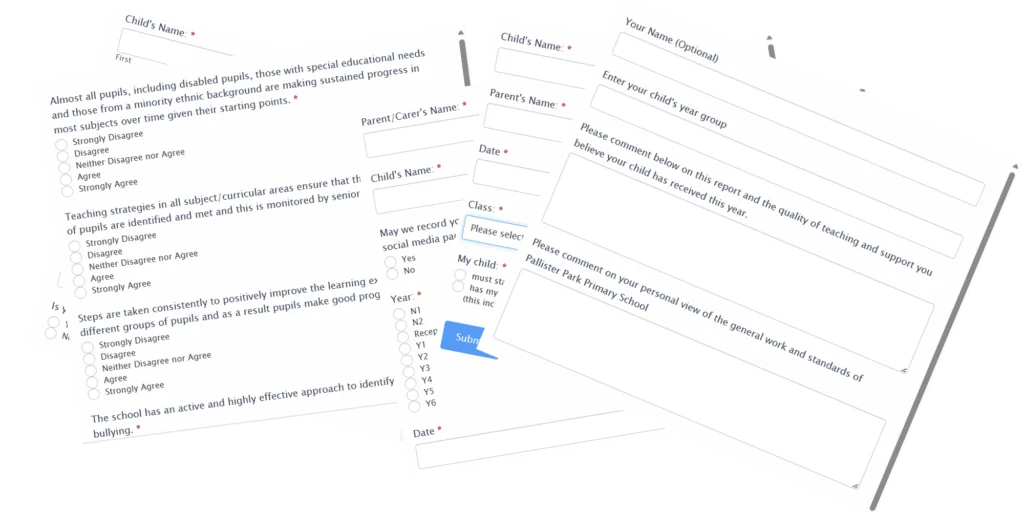 Get the Training you need
And that's not all! As part of the iTCHYROBOT community, you gain access to exclusive online training sessions, where you can learn from the very experts who built our cutting-edge systems. These sessions are held weekly, ensuring you have the flexibility to attend as many or as few as you need to enhance your skills and propel yourself to the next level. Check out our series on Parental Engagement with data capture
Want to find out more about our iTCHYROBOT Forms?
Our fantastic Technical Manager, Scott, has created a quick video to showcase just how speedy and hassle-free it is to set up data capture forms on your iTCHYROBOT Website. Check it out!
If you want to see more short snippets on how the iTCHYROBOT Platform Works take a look at our YouTube Channel.
We'd love to hear your thoughts! If you have any questions or want to see our fantastic school solutions in action, feel free to send a message to the iTCHYROBOT Team. We're here to make sure you get the maximum benefit from using our platform, tools and solutions.