Effective home-school communication is vital. It ensures that everyone stays informed about the latest developments, fosters inclusivity, and strengthens relationships.
With a plethora of communication methods available, including SMS, Facebook Messenger, email, Telegram, WhatsApp, and more, the options seem endless. But here's the question: Did your message reach everyone?
Even though we're more connected than ever through the various platforms, when it comes to getting the most current and relevant information, we all tend to turn to the organisation's website. Need to know if the school is open or when that exciting trip is returning? The website is our first stop. This is evident in Google's website traffic data, which shows a surge in visitors during significant events like snowfall in the winter.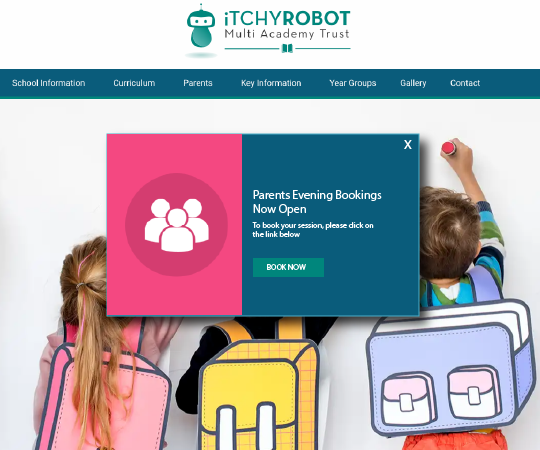 Uses for School Alerts
School Closures
Open Days
Bad Weather
Parents Evening Booking Alerts
Upcoming Events (Holidays, Festivals, PTA)
School News (New Awards or Successes)
Surveys
Ofsted Visit and Publish Results
So, why not ensure that your crucial messages are prominently displayed on your school's website? Well, you've got it – embedded within our Schools platform is a user-friendly school alerts system that places your essential messages right in the spotlight, where they can't be missed.
Our system is incredibly versatile and straightforward to use. It has the function for messages to be scheduled so they are removed after a certain length of time, along with the ability to set the colours so your message can be as eye catching or as subtle as you need.
It's time to keep your community informed and engaged effortlessly!
Get the Training you need
And that's not all! As part of the iTCHYROBOT community, you gain access to exclusive online training sessions, where you can learn from the very experts who built our cutting-edge systems. These sessions are held weekly, ensuring you have the flexibility to attend as many or as few as you need to enhance your skills and propel yourself to the next level. Check out our Platform Familiarisation Training Session that covers using our School Alerts feaure.
Want to find out more about our School Alerts?
Our fantastic Technical Manager, Scott, has created a quick video to showcase just how speedy and hassle-free it is to set up alerts on your iTCHYROBOT Schools Website. Check it out!
If you want to see more short snippets on how the iTCHYROBOT Platform Works take a look at our YouTube Channel.
We'd love to hear your thoughts! If you have any questions or want to see our fantastic school solutions in action, feel free to send a message to the iTCHYROBOT Team. We're here to make sure you get the maximum benefit from using our platform, tools and solutions.