On Tuesday 24th of May, WordPress released their second major version of the year. 6.0 contains a swathe of updates designed to improve how users build and edit websites. Some of them are designed for more advanced users or websites with features such as ecommerce, but we've identified some we think might be of value for our schools!
Easier Text Highlighting
This one is less about editing capabilities, and more about user functionality. You may found yourself editing a page and needing to select text across more than one text block. On previous versions of WordPress, this could be quite a pain to do, and take some precise clicking! In 6.0, they've made it much easier to select text across multiple blocks. This allows users to select, copy and paste from different areas and move it around easily.

Quickly Add Internal Links
When you're hyperlinking between different pages on your site, it could be a pain to highlight the text and then click the link button, then have to find the right page to link to. It's not particularly complicated, but it could be time-consuming, especially on pages with a lot of internal links.
WordPress 6.0 has introduced a new feature where putting two square brackets, then typing the name of the page, automatically finds the link for you and puts it in the page! So for example, if you wanted to link to your school's policy page in a sentence, typing this would create the sentence with a hyperlink.
"You can find more information by visiting our school's [[Policies page."
This is much quicker than the previous method, however you will still need to use that method for hyperlinking to external websites.
Bordered Columns
Column blocks are great for designing pages. You can use them to split up content, add spaces and put text side-by-side with other elements. However, sometimes text could appear to flow into another column, making it hard to distinguish where one paragraph ends and another begins. 6.0 has added the ability to add borders to column blocks, helping them to stand out and split up content better.
Gallery Improvements
For anyone who's used the Gallery block, it can be frustrating having images appear close together on the page. Fortunately, WordPress 6.0 brings with it the option to add padding between images, allowing you to space them out and create fantastic looking galleries!
Copy Media URL From Library
This will be a godsend if you use the media library in list mode! You now have the option to copy the URL directly from the list without having to click on the item first, which makes tasks like uploading policies using our policy manager where you have the option to paste the URL in a breeze.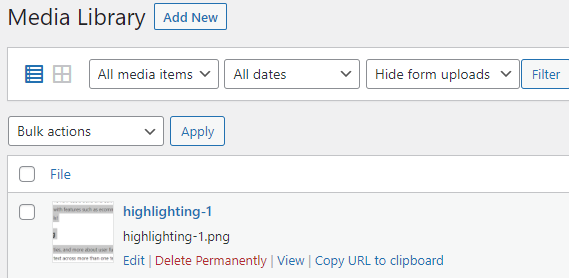 Improved Accessibility
Accessibility is key for users navigating your website. WordPress want to ensure that anyone can fully access any site built using their platform. Some of the most notable additions in the WordPress 6.0 update are below.
Any featured images will automatically use the post title as ALT text if none is provided.
They've added better tabbing in blocks with placeholder elements.
Admin bar text labels will now be able to be read by screen readers on smaller screens.
Screen readers will provide a more descriptive announcement upon a user saving a draft.
Search announcements in block search.
Any blocks with a placeholder setup will be able to have their description read.
The full list of accessibility changes can be found here.
Learn To Use These New Features
Every week, our Technical Manager, delivers training sessions on different topics on a set day. The subjects are announced at the start of the month, and are then uploaded onto our website for VIP clients to sign up to. You can access this here.