As a follow on to our mini update blog in 2022 we thought we should add a round up to the school year with what we have been up too.
The year seems to be flying by and whilst we continue our security theme having just completed our Cyber Essentials Certification the many features added to the platform this year have been integrations to enhance the parents evening system and safeguarding features to help schools keep on top of actively managing their site content.
Parents Evening Platform
Our flagship product has had a host of updates so far this year. In short these have centred around;
Simplifying onboard teachers and students via Wonde Integration
Parents Evening Setup Wizard to simplify session setup
communicating with parents and carers – letter builder with auto mail merge and output
AI Letter writer helper
Parent/Carer user interface improvements to the booking process
Wonde Integration
Wonde's innovative platform has been designed and built to integrate seamlessly with your school MIS, ensuring your data is securely maintained, managed and accessible. A single, simple to use portal enables you to access and control all of your applications.
The iTCHYROBOT Parents Evening System is now part of the Wonde Eco System which means you can import your school MIS pupil and teacher data through Wonde directly into the Parents Evening Portal in your iTCHYROBOT Website.
The tools available streamline your import of students which means your data is up to date when you come to setting up your next Parents Evening.
ChatGPT AI Letter Writer
Stuck for something to say then ask the AI letter writer for some suggestion.
Please Write me a letter to parents for a year 3 trip to the beach on the 12th July 2023 leaving school by bus at 0900 and returning at 1500. Pupils to bring a packed lunch.

Write me a letter inviting parents to our parent consultation meetings. Booking on the following link.
Press Go, give it a few seconds and it will come back with a template letter in text format to edit to your needs.
To be honest, you guessed it! Our techies wanted to play with the latest shiny new toys and this is really for fun at this stage although we have noticed it is getting a lot of use. This has surprised us but we are looking forward to seeing how you make use of the new feature through the reset of 2023 and 2024. Maybe we will come up with an award for the most innovate letter requested!
Letter Writer Batch Output
Not content with just writing the letters we wanted to make it super easy for admins to get batches of letters ready for a class or the whole school. To achieve this we introduced some unique codes that you can add to the letters. These look a little strange at first but are similar to those used in word for mail merges.
Mail Merging is a hot topic in training and a question we get asked frequently. It appears to be one of those infrequent tasks that is really useful but easy to forget how to do it. It doesn't help that Microsoft keep moving the buttons about between versions of Word either.
Now you can go to the letter writing feature. Construct your letter, use the smart tags listed on the page then create your letter output for a class or the whole school.
The letter you generate will merge the names of students and more and give you a word document to download that can then be edited or printed and handed out to pupils.
Parents Evening Wizard
To help speed up the process of setting up a parents evening we have developed a step by step guide that walks you through a sequence of questions. On completion of the questions your parents evening sessions are all setup ready to publish onto your website. We are really looking forward to the next parents evening sessions and our training on this feature as we hope you will love the new updates.
Photo Permission and Managing Parents Evening Bookings
To make it easier for parents to change bookings they receive an email confirmation of their chosen appointment. This contains a link to a secure page on the website that allows them to manage the booking for their child.
On the manage parents evening page parents are also invited to update their photo sharing options. This ensures as a school you are keeping regularly up to date with parent requests. The next evolution of this feature will be the automatic removal from the site of images when parents withdraw approval for use on the website.
Front End Updates
Whilst it is great to be adding new features for the website admins we have also been busy making it easier for those who use your school website to find information.
Policy Features
Working with a lot of schools and providing content support services we know how many policies schools need to add to their websites to maintain Ofsted Compliance. Lots and Lots!!
We discovered that as the policy sets grew the lists became more timeconsuming for use to find and manage. To improve the website vistors experiece we develop a couple of easy to use ordering tools, a search feature and policy groups.
Below is an example of policies setup out in sections which are defined by the school website admin. The website visitor has the option to View as a list and then filter and search as required.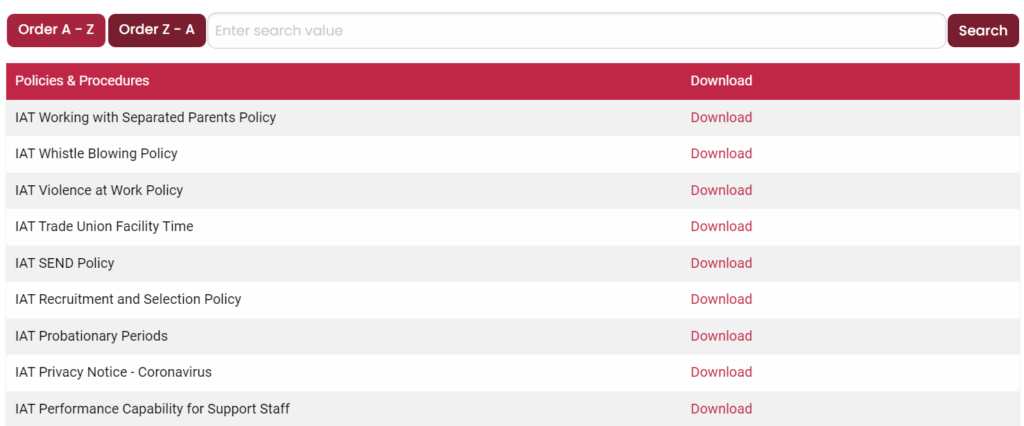 Additionally, policies often end up embed on different pages rather than just the policies page. This often results in admins uploading the policy twice which makes site management cumbersome as you have two different documents in the site media library that are actually the same. Remembering to change both, well, you know what I mean if you have to manage the site content.
If you have implemented the policy group feature you can now ask the website to list all your safeguarding polices on your Safeguarding page.
Now when you change a policy in the policy section of the website, using our new features, the policy is updated on all website pages.
Safeguarding and Photos
We have been asked on a number of occasions to remove photos of pupils for various reasons. Whilst it is an easy task it can be laborious and very easy to miss an image if it is in a banner slider or hidden deep on a linked subpage or page 5 of an page gallery.
To combat this we developed a tagging and search facility. Upload your photo as normal into the media library and in the secure area add the names of the pupils in the image on upload.
When it comes to locating all images of a pupil you can simply run a report from the admin area.
All details are linked to the pupils imported either via the basic CSV system or loaded into the School Management Area via our Wonde Integration.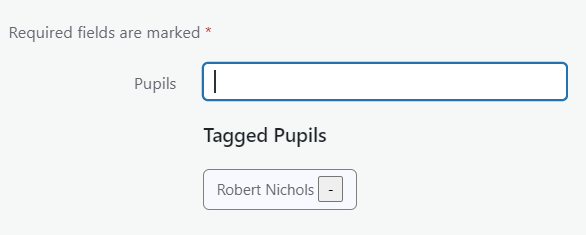 What to watch out for
Keep an eye on the site for our next post that will be covering more platform updates that have integrated QR codes and a full update of the events calendar.
There are sessions being held this year both for staff new to the role and existing web admins to get you up to speed and comfortable with the new features and functionality.