iTCHYROBOT offer bespoke school website design and time-saving functionality to ensure your school has a website that truly represents you.
Whether you need a brand new online presence or just want to upgrade your existing website, we can help! We're experts in website design for schools, creating unique sites showcasing key messages, benefits and more. We can work with any educational establishment, including primary & secondary schools, nurseries, MATs, independent schools and more.
Each of the sites we create is backed up with a suite of functionality designed to make life easier for your website administrators. From pop-up notifications, to policy managers and parent's evening management tools, you can rely on an iTCHYROBOT site to streamline important processes within your school.
All of our schools have access to weekly training sessions with our Technical Manager, Scott. These help familiarise you with (or remind you of!) different parts of your site, from adding content to organising a parent's evening. These also include a Q&A session, which alongside our 24 business hour support inbox, ensures you're never left struggling to make changes.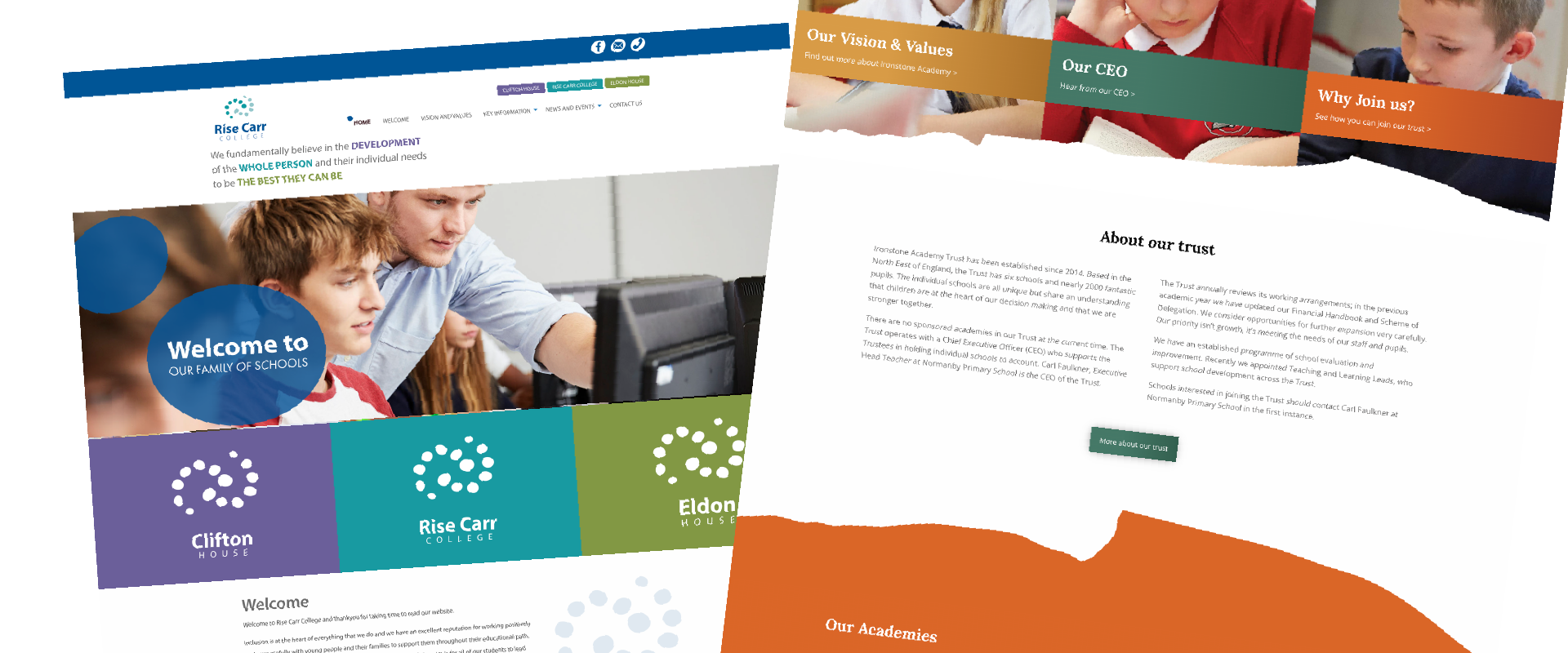 What makes iTCHYROBOT's school website design stand out?
Bespoke
As all of our websites are designed especially for each school we work with, you'll always stand out! We never use templates and work alongside you to make sure your message and brand is represented.
Beautiful
We pride ourselves on the care and attention we put into each and every one of our school websites, creating visually impactful sites that are bound to impress any stakeholder visiting them.
Communicative
Your school's website is likely your parents' first port of call to keep up to date with the latest news and updates. We understand this and make sure information is presented clearly and prominently.
Responsive
In this day and age, people are often more likely to visit websites on the go using their phones. All of our websites are designed to work just as well on mobile as they are on a desktop PC.
Secure
iTCHYROBOT utilises a Magic Log-in system that easily allows pre-approved users to access the site's Content Management System. This prevents chasing and cancelling login details from ex-employees.
Easy to Use
We're constantly reviewing and upgrading our websites' back-end to bring you new features and make it easier to use. We welcome feedback and run regular training sessions to help you become a pro.
Functionality & Features
As well as our fantastic school website design, we've also created a number of tools designed to make save you time & money, aiding with some of the most frequent issues that we've found schools run into. These are on top of our standard
Parent's Evenings
We know how tiring and confusing it can get to organise a Parent's Evening. Between lost paperwork, accidental double bookings and more, so much can go wrong!
Avoid disaster with our fully online set up and organisation, allowing staff and parents to register bookings easily and quickly. Manage every aspect of attendance and take control of the evening.
Teachers can also manually add any bookings they get, ensuring that their time slots are fully managed.
Policy Manager
When new policies are issued within your school, it's imperative that you have a record that every staff member has read and signed the document. However, this often involves lots of chasing up and potentially lost documents.
Our built in Policy Manager allows you to manage all your policies in one place, tracking exactly who still needs to sign. You can also assign review dates to each policy, ensuring you're reminded to regularly update them.
Popup Notifications
Parents are often looking for the latest updates when they visit a school website, therefore it's vital to make this as visible as possible. Whether you need to communicate about a closure, poor weather, term dates or more, our popup notifications make this information very prominent.
The notifications can be styled to match your website's branding and feature all the information you need to share.
Virtual Classrooms
Over the past couple of years, it's become vital to be able to teach online. We've fully adopted this into our Virtual Classroom functionality.
This system is easy for teachers to use, creating lesson frameworks on the website which can then be shared with students. The learner has access to all of their required materials in one place.
This system perfectly complements online teaching over a video platform, such as Zoom, allowing learners to access work tasks as and when they need them.
Communication Tools
We've included a whole host of tools that allow you to manage all of your parental communication in one place.
Social media integration allows you to save time on updating the site as well as social media by placing feeds directly into the site. An events calendar ensures that parents are kept up to date with everything going on.
Users can send letters to parents directly from the site, with the ability to monitor signatures to ensure no letters are lost again!
Forms
Every school website features an easy-to-use plugin which allows you to create custom forms. These can be used for any purpose, whether that's to gauge interest in an upcoming trip, gain parent feedback or just as a point of contact for website users.
These forms will send notifications out to chosen staff when completed, allowing them to be moved into a CRM system or handled manually.
Our skilled team are always on hand to answer any questions you may have. Get in touch with us today to find out how we can help your school website stand out.