School to Parent/Carer communications are essential, with hundreds of platforms being purchased and used by schools to communicate but still parent/carer feedback indicates that they are still missing vital information. Often due to not knowing how to log in to a particular system or they have lost the letter with their password. This can often prove time intensive AND costly for schools.
How do your parents keep track of what
communication channels your school uses?
iTCHYROBOT have created a simple, cost-effective solution that can support your parental engagement and what's more, you don't need to invest any time at all in the implementation.
Excited Yet!?
Introducing our iTCHYROBOT Parent Comms Card. The perfect solution for your school to communicate where your parents will find that vital school information.
> SAVE YOUR STAFF NUMEROUS PHONE CALLS AND EMAILS FROM PARENTS
>SAVE YOUR SCHOOL MONEY ON REPRINTS OF LETTERS
>IMPROVE YOUR PARENTAL ENGAGEMENT
> PARENTS WILL KNOW WHERE TO FIND INFORMATION DIRECT FROM THEIR WALLET!
Simply provide us with your key forms of parent communication and we will create you your own branded card to give to your parents. Branded with your school colours and customised to your school communications, this card really is a game-changer!
This can be given out on joining the school, during parents evening or simply left at Reception for parents/carers to collect. They are easily stored like any bank or store card in your parents/carer's wallet for easy access.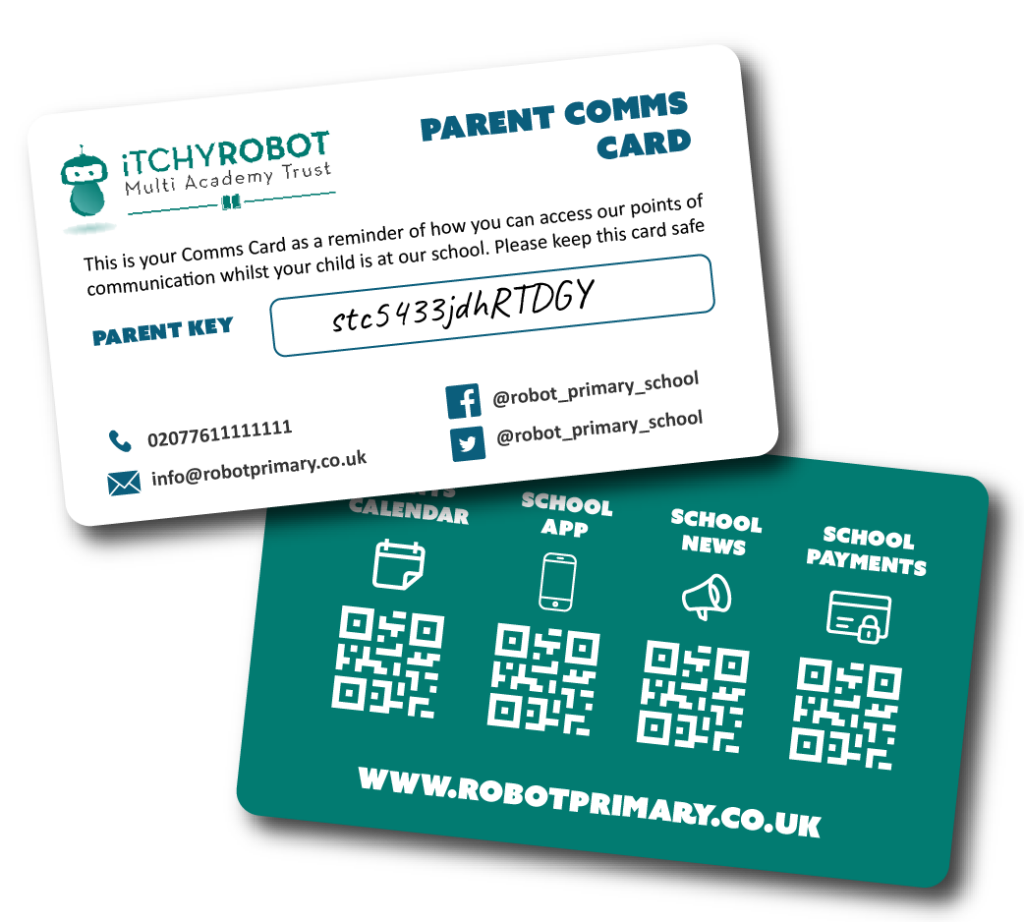 What do I do now?
If you would like to purchase a comms card for your school, simply complete the form below and then…
The Team will create your Comms Card and send over a draft for you to sign off.
Once signed off, we will send your card to print and deliver these direct to your school
How much does it cost?

| Quantity | PVC Card * | Quality card* |
| --- | --- | --- |
| 250 | £290.00 + VAT | £155.00 + VAT |
| 500 | £335.00 + VAT | £170.00 + VAT |
| 1000 | £425.00 + VAT | £195.00 + VAT |

*PVC is a thicker and more durable card, very much like your credit cards or store cards

**Quality card – is 450 gsm card which is laminated both sides to ensure durability.

If you are looking to buy larger quantities, please contact us.
Ready to buy? Complete the form below.