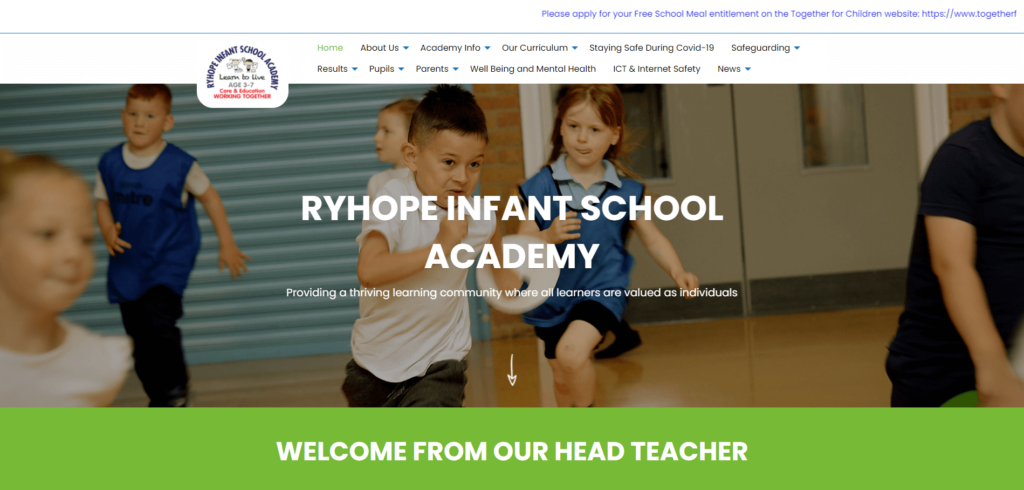 What They Wanted
Ryhope Infant School Academy wanted a website that better represented their school ethos, as they had outgrown their previous one. It was also important that it was easy to use for both external users and internal admins, with everything straightforward to find and access. It was important to the school that their website embodied their friendly approach to learning.
What We Did
Keeping their goal of being friendly and welcoming in mind during the design phase, we incorporated illustrations and playful colours throughout the site.
Combining this fun design with our useful suite of schools-focused features, we created a functional website that fit their design criteria. Functionality included:
Our Parents' Evening system which allows schools to quickly and easily set up an entire event, invite parents and teachers and arrange it all online
Customisable forms, allowing the school to be able to collect any data they need
Online learning facilities which were vital during lockdowns
Policy Manager to make it simple to keep policies updated
Full training to help admins make the most out of the site
Access to our dedicated support inbox and platform, giving them priority for changes or fixes
What They Think
Since the site launched, we've continued to support Ryhope with training and assistance. They were over the moon with the website and continue to make changes to the site themselves thanks to their prior training, and the ease of administrating the site.