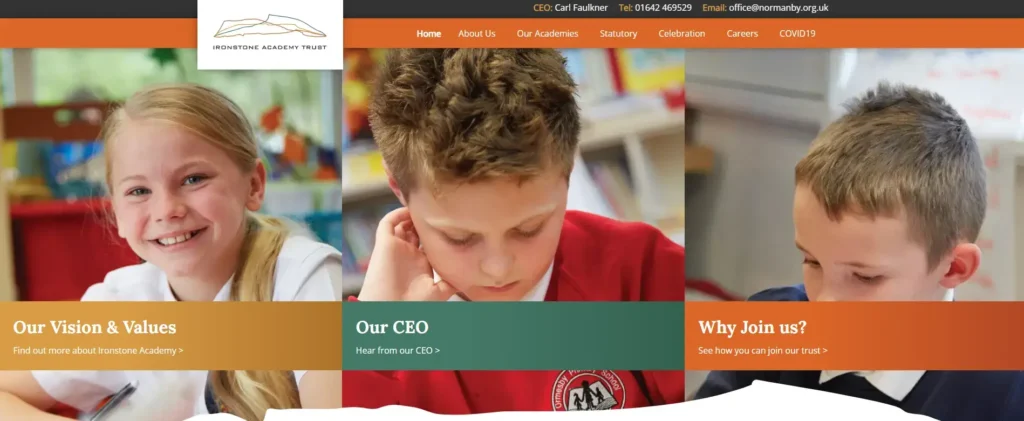 What They Wanted
Normanby Primary School was one of iTCHYROBOT's very first schools, and Ironstone was our first Multi Academy Trust! After completing the Normanby website, the Trust loved the site so much they asked us to create websites for the whole trust. They wanted a solution that provided each school with centralised functionality, but maintained their unique identity.
What We Did
We worked with the Trust, as well as a key contact from each school, to ensure the design was representative of each school's vision and values.
Every site needed to be easy to use for the school's staff. Fortunately, our simple back-end system, combined with great training sessions, made it very straight-forward for users to edit content and images. The functionality in the site includes:
Our Parents' Evening system which allows schools to quickly and easily set up an entire event, invite parents and teachers and arrange it all online. This is utilised trust-wide.
Customisable forms, allowing the school to be able to collect any data they need.
Policy Manager to make it simple to keep policies updated across individual school sites and the Trust as a whole.
Full training to help admins make the most out of the site.
Access to our dedicated support inbox and platform, giving them priority for changes or fixes.
What They Think
Since initially working with the Trust over 5 years ago, we have continued to maintain a close bond with the Trust and each individual school. Ironstone Academy Trust have continue to use some of our other services, including branding. We created the Ironstone brand, as well as carrying out a brand refresh for Nunthorpe Primary.
We design all of their signage and school signs too, ensuring the designs remain consistent throughout.