A recent survey was created by the brilliant Parent Ping that analysed the decision making process for choosing a school for their child.
There were some interesting results, but not surprising that before choosing a school, the number one thing that parents did was visit your school website. Social Media was the lowest – which was a surprise.
Yo can see the results in the table below and there is a link to the article for you to review.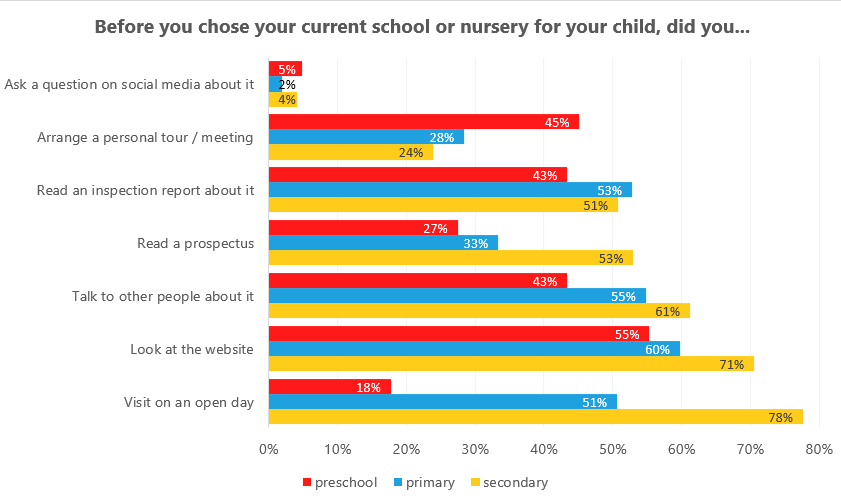 To see the article in full, please click the link below…
Parent Ping: Focus on school choice
How confident are you that your school website will entice a parent to choose your school over any other?
What does your website showcase specifically for prospective parents and how is this information displayed?
When reviewing school websites, we have found a number of key mistakes that schools make which we have reviewed below.
The standard school Admissions page
I am going to make a mystic predication now, no I am not psychic but I have seen many, many Admissions pages on school websites and there appears to be a common theme amongst them.
So, get my crystal ball and what do I see… it's coming clear and it seems to be a lot of words…no wait a minute is it a link on there….
IT's AN ADMISSIONS POLICY!!!???
An admissions policy? Really? So, you want to recruit new pupils, sell your school, why chose you? The page that prospective parents will view when they come to your website will be the admissions page and are met with a lengthy policy or if we are being really innovative we might have a link to the local authority website – yes taking that prospective parent away from your website possibly to see other schools in the area and now you may have lost them forever!
So what can you do to encourage parents to consider your school?
Here are some tips on what you might include on your admissions page to really engage with parents and make them want to send their child to your school.
Sell your school – tell your story, what are the great things about your school, what makes you different to the school down the road? Share your values as a school and how you integrate that throughout your school.
Quotes – add some quotes from existing parents, existing pupils or even videos on why their child should come to your school. Add some quotes from your Ofsted report which adds that credibility to your offering
Tell them all about how you onboard your new parents/pupils (what is your strategy for new pupils/parents) how will you work with them to ensure their child is happy, how will you introduce them to the school and the curriculum?
Are you offering any open days, play sessions to showcase the school. Add your next events to the page and encourage parents to contact you to register their attendance
Images/Videos – put a gallery of all your beautiful, happy current pupils – playing, learning, sharing and caring. Everyone likes to see happy children. Select some really great images that reflect your school.
Why not add a registration form on your page (ensure you obtain permission to be able to contact them!) You can then contact interested parents immediately and invite them to your events and follow up on any enquiries.
Think about if you were a parent considering a new school for your child, what would you want to see – what would make you choose your school?
Hopefully, iTCHYROBOT have provided you with some food for thought and given you some new ideas to really promote your school.
---
To take a look at all of our Blog articles, click here.