Create a New starters page on your website
Gone are the open days, the meet the teacher and play dates to introduce your new pupils to Primary School, well at least in the format we currently do it!
How will you be supporting or communicating with those parents who have children due to start your school in September?
Well, here are some ideas!
Create a section on your school website to direct your new parents/carers and children too.
What should I include:
A tour of the school
We all have access to iphones, or know someone who has a go pro or similar? Why not get one of your staff (preferably one with steady hand) to give a run through of the school. Start at the walkway into school "this is where you will walk into school, and in through this door.
Show the classrooms and how they will be set up, where they will leave their coats, how they will have a peg with their own name. (I appreciate this may be very different to how it was, or may be in September), the school hall, the playground, toilets and any other school areas – library, quiet areas, play corner etc.)
Meet the Teacher
Again, your video skills will also come in handy to produce some 'meet the teacher' profiles. Get your EYFS teachers to record a friendly introduction to who they are, what they do, how much they are looking forward to meeting you.
Set up the backdrop in the classroom to see where you will sit or stand, what their day will be like, show them some of the work or play areas they will get the opportunity to play in.
If you need editing, either use your web provider or if you have a handy Techy in your school get them to edit this with some video editing software.
Get this published along with your tour on your web page.
Have you ever seen the recorded Santa videos that you can get for your child? (yes he is real!) Once you know something about the child, why not send them a personalised video, talking about all the things they like to do and that you know their favourite book is X and they love drawing?
Downloadable documents.
All about Me – get your new starters to fill out and upload or email their "all about me" document. You can include details such as:
My name is X but I like to be called Y

I have a pet called Sooty

My favourite colour is Pink
If you would like a free download template of our 'All about me' document, complete your email below and we will send you a copy via email.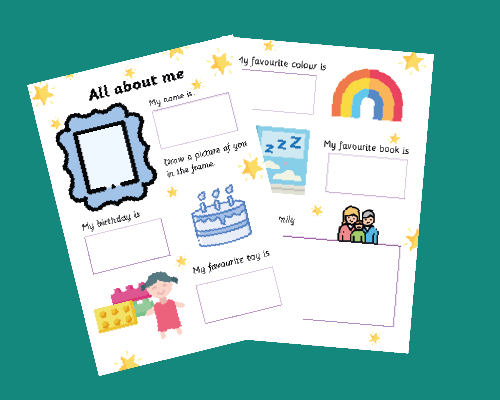 Useful links
You can either tailor this for parents or pupils. So, for example, the parents section might be:
| | |
| --- | --- |
| For Parents | For Pupils |
| School Uniform | What will I wear? |
| School Policies | What will I learn? |
| Curriculum | Where will I sit? |
| Term Dates | Where do I play? |
| Communication | |
| Forms | |
Set up a Facebook group
Why not get a Facebook group set up whereby parents/carers of new starters can get together? You can post regular updates on here with tips, suggested books, go live with a Q&A (if you love video).
A Facebook group is much more secure that a page and you only allow entry to those parents who you know are at your school.
---