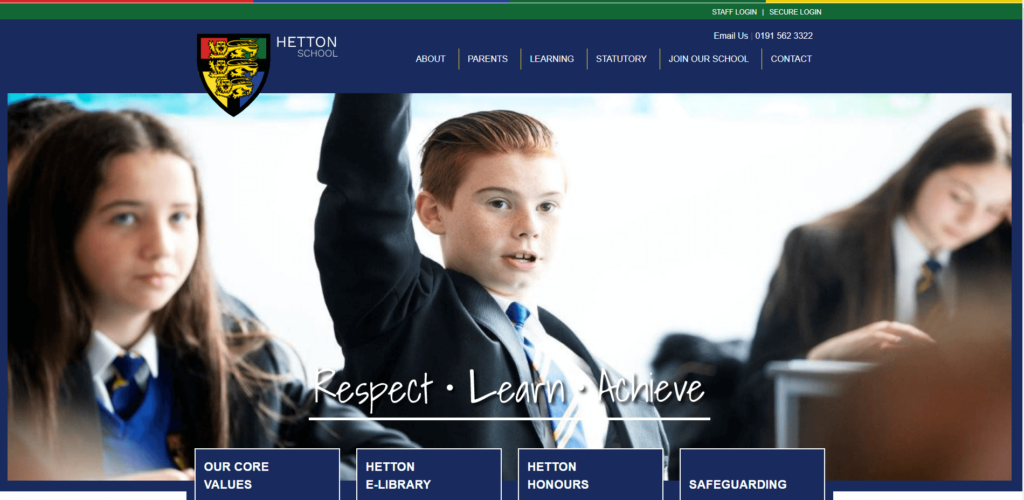 What They Wanted
Hetton Secondary School had an incredibly dated website that parents, students and staff struggled to use. They desperately needed something more modern, more functional and full of straight-forward tools to simplify and speed up processes.
The school has many sports fields which it hires out to local community members. They ideally wanted a booking system from which these facilities could be booked and managed online.
What We Did
All schools need a website that accurately represents their ideals, ethos and values to visitors. Users can then get a full picture of what the school is about, rather than guessing which was the case with their previous site.
We took the school's brand and logo and made sure it, and its colours, were present throughout the site, reinforcing the school's brand throughout.
We also needed to ensure that the site could easily be worked on by teachers and admin staff in the future if updates or changes were required. Fortunately, our easy-to-use back-end system, combined with great training sessions, made that a doddle. The functionality in the site includes:
Our Parents' Evening system which allows schools to quickly and easily set up an entire event, invite parents and teachers and arrange it all online
Customisable forms, allowing the school to be able to collect any data they need
Online learning facilities which were vital during lockdowns
Policy Manager to make it simple to keep policies updated
Additional design functionality to show staff members for each subject
A full facilities booking management system that allows users to easily book sports fields, and admins to manage and track bookings
Full training to help admins make the most out of the site
Access to our dedicated support inbox and platform, giving them priority for changes or fixes
What They Think
Following the project, we received glowing feedback from the staff at Hetton Secondary School. Communication levels throughout the project were of a high standard, and they were over the moon with the finished result. The school said they would be confident to recommend us to other schools, which is the best kind of compliment we can receive!